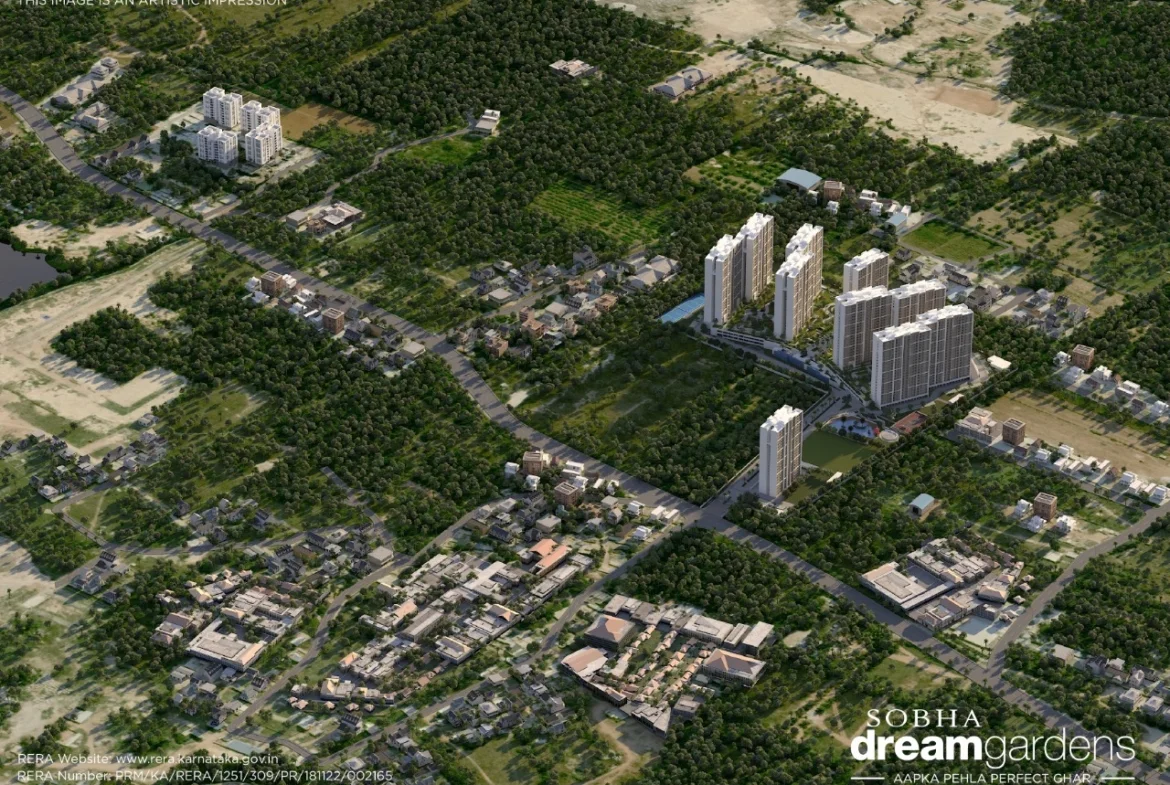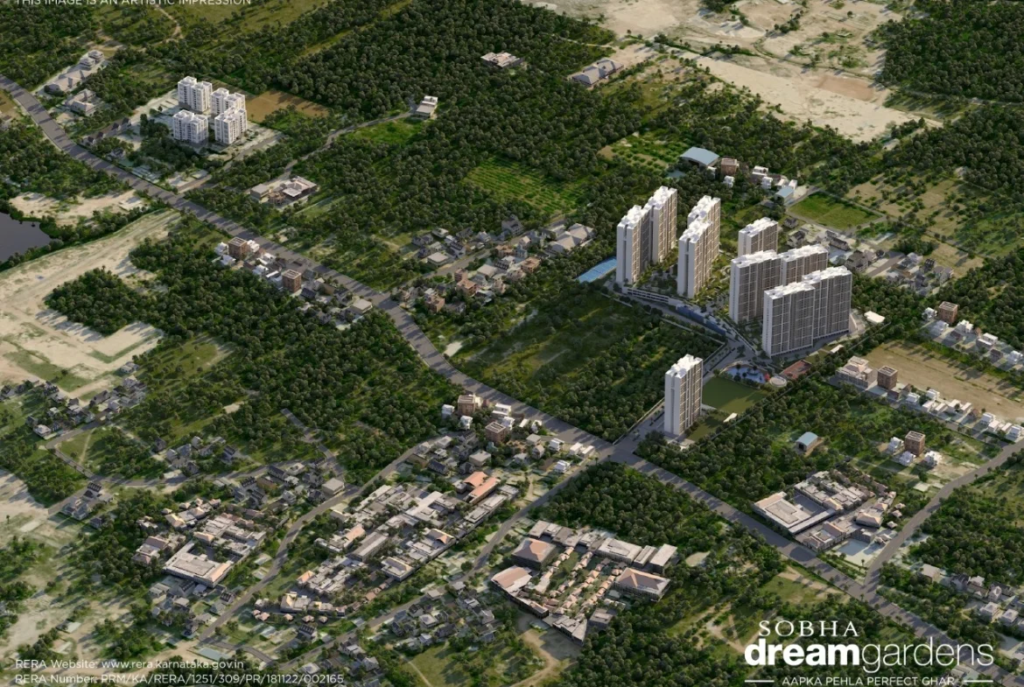 Luxury Living Amidst Nature's Abode
Incredible Apartments in Bellahalli, Thanisandra – Kogilu Road, Bangalore
Introduction: Unveiling Sobha Dream Gardens
Welcome to Sobha Dream Gardens, the epitome of luxury living in Bellahalli, Thanisandra – Kogilu Road, Bangalore. This prestigious residential enclave, crafted by Sobha Developers, sets a new standard in the luxury segment. Sobha Dream Gardens offers a collection of spacious and exquisite apartments that come adorned with luxurious features. The project is a harmonious blend of captivating landscapes and the tranquil Japanese – Buddhist architectural style known as "Zen Design," making it an elite haven for its residents.
Discovering the Essence of Sobha Dream Gardens
Architectural Brilliance and Zen Design
Sobha Dream Gardens boasts a timeless appeal with its unique architectural design inspired by the Zen philosophy. The Zen Design fosters harmony between nature and living spaces, creating an aura of tranquility and peace. Residents will find themselves immersed in an environment that fosters a deep connection with nature, promoting a sense of calmness in the midst of the bustling city life.
Abundant Green Spaces and Landscapes
The beauty of Sobha Dream Gardens lies not only in its meticulously designed apartments but also in the enchanting green spaces that envelop the entire community. Sprawled across 18 acres of lush land, the project offers residents an opportunity to live amidst nature's splendor. Manicured gardens, flowering trees, and serene water features create a refreshing ambiance that soothes the soul and rejuvenates the mind.
World-Class Amenities and Facilities
Sobha Dream Gardens believes in elevating the living experience to unparalleled heights. As a result, the project offers a range of world-class amenities and facilities that cater to the needs and desires of its esteemed residents. From a luxurious swimming pool, well-equipped fitness center, sports facilities, children's play areas, to a serene meditation pavilion, every aspect of Sobha Dream Gardens is designed to provide a fulfilling lifestyle.
Thoughtfully Designed Apartments
The heart of Sobha Dream Gardens lies in its thoughtfully designed apartments that exude elegance and modernity. The project offers 1 and 2 BHK configurations with varying built-up areas, providing ample space for residents to live comfortably. The apartments are replete with contemporary finishes, high-quality materials, and sophisticated interiors, creating a haven of luxury and comfort.
Unveiling the Key Features
Size and Scale: A Grand Community
Sobha Dream Gardens is a grand community that houses a total of 1700 units, ensuring a vibrant and diverse neighborhood. The well-planned layout of the project promotes a sense of community while respecting the privacy of each resident. With a mix of 1 and 2 BHK apartments, the project caters to young professionals, growing families, and those seeking a serene retreat.
Towering Heights: 2B+G+23 Floors
Rising to 23 floors, Sobha Dream Gardens stands tall as an architectural marvel in the vicinity. The soaring towers offer breathtaking views of the surrounding landscapes and city skyline, enhancing the living experience for its residents. The intelligent design of the towers ensures ample natural light and cross-ventilation, creating a fresh and inviting ambiance within each apartment.
Impeccable Quality and Trust: Sobha LTD
Sobha LTD, the esteemed builder behind Sobha Dream Gardens, is synonymous with impeccable quality, trust, and excellence. With decades of experience in crafting iconic real estate projects, Sobha Developers has earned a reputation for delivering homes that blend aesthetics with functionality. Sobha Dream Gardens stands as a testament to their unwavering commitment to excellence.
Strategic Location: Kogilu
Nestled in the vibrant neighborhood of Kogilu, Sobha Dream Gardens enjoys a strategic location that offers excellent connectivity and convenience. The project's proximity to essential social and civic amenities such as schools, hospitals, shopping centers, and entertainment hubs ensures residents can lead a comfortable and fulfilling life.
Project Timeline and Possession
Launch Year: 2018
Sobha Dream Gardens made its debut in 2018, capturing the attention of aspiring homeowners looking for a luxurious abode amidst nature's beauty. The project's launch marked the beginning of an extraordinary journey that would redefine the concept of luxury living.
Possession Date: 2025
With meticulous planning and construction underway, Sobha Dream Gardens is set to be completed and ready for possession in 2025. As the possession date approaches, eager homeowners await the opportunity to embrace the lavish lifestyle offered by this exceptional residential project.
Conclusion: Embrace the Sobha Dream Gardens Lifestyle
In conclusion, Sobha Dream Gardens stands as a testament to luxurious living amidst the lap of nature. With its Zen-inspired architectural brilliance, lush green landscapes, world-class amenities, and thoughtfully designed apartments, the project offers a lifestyle that surpasses all expectations.
Every aspect of Sobha Dream Gardens exudes opulence and sophistication, making it the ideal abode for those who seek a harmonious blend of modern comforts and serene living. Sobha LTD's commitment to impeccable quality and trust adds an extra layer of assurance, making this project a wise investment for the discerning homebuyer.
If you aspire to elevate your living experience to unprecedented heights, Sobha Dream Gardens is the perfect choice for you. Embrace the essence of luxury, tranquility, and elegance as you embark on a journey to discover the finest living experience amidst nature's abode.